home materials events & news training cell groups strategies about fusion contact
Fusion
Catalyzing the local church to engage student culture and build effective collegiate ministries.

Right now in the United States, nearly 18 million students are enrolled at colleges or universities. Here they will study, explore life, and find direction.
Fusion sees these college campuses as a stategic mission field that cannot be overlooked. These students are gathered for a season and then scattered for a lifetime.
Through developed resources, experience on campuses, and effective training we partner with the local church to reach universites and colleges.
Fusion wants to assist student workers in their ministry by encouraging them and providing applicable training.
Our vision is to fuel a student movement on these campuses; to build an army of students who wish to see students around them come into a relationship with Jesus Christ.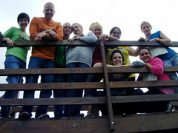 "God has given us the task of telling everyone what He is doing. We're Christ's representatives. God uses us to persuade men and women to drop their differences and enter into God's work…"
– 2 Cor. 5:19,20 MSG
Fusion Church Community
CHECK OUT OUR PARTNERS
Campus Alpha
Run a 7 week course explaining the basics of Christianity. The Alpha course is one of the most well known outreach resources in the world and now it has been modified to run effectively on college and university campuses. Click on the link in the name to find out more.
LiveAbove.com
Going off to college? Sending a student off to college? Use LiveAbove.com to connect with active ministries on the campus you will be attending before your first day of class. Fusion has partnered with them to provide the information of college friendly churches around campuses. Click on the link in the name to find out more.
---
Fusion
Home | About Us | Contact Us