home materials events & news training cell groups strategies about fusion contact
Comprehensive
"And He said to them, "Let us go into the next towns, that i may preach there also, because for this purpose I have come forth." Mark 1:38 NIV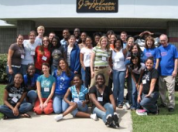 [LARGE GROUP GATHERINGS]
Launching a weekly, biweekly or monthly on-campus large group gathering.
Practical Comprehensive ideas or insights:
At this stage, given that you have a core of students and local church oversight, you now desire to become a recognized group on campus.
Talk to the Student Activities office at your campus to start the application process and learn the club requirements. (See Connecting with the University resource below)
Becoming a chartered group will give you access to room usage, publicity tables, school equipment and possible funding.
Build a good relationship with any other campus ministries that may already exist. It is your desire to see students saved, not take their students.
Goal is to build a transformational community where students will be saved, trained, sent and staffed.

Below are some practical resources to help you catalyze an effective, ongoing ministry on campus. For a complete list of the resources Fusion has available on this site please go to our materials page.
FUSION MATERIALS
| | |
| --- | --- |
| | Connecting with the UniversityThe university is a big place. Navigating the bureaucratic waters can be confusing at first, but learning from others can make the journey easier! This guide from West Coast Chi Alpha will teach you about chartering a new group on campus and how to build bridges with the university community.Free Download |
| | Growing Campus GroupsAn excellent source of insight and practical pointers on how to effectively grow a healthy, long-term campus ministry.Free Download |
| | Key to Community: DelegationThe importance of learning to hand things off to other students in the ministry.Free Download |
| | NY Times, Faith Growing on Campuses.Even the secular world is noticing a different "hunger" in this college generation.Free Download |
| | Miracles on campus!God showing up in power on the secular university!Free Download |
---
Fusion
Home | About Us | Contact Us